Gift Certificates for Garage Door Products and Services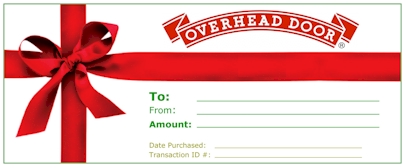 When you're thinking of giving a gift it probably doesn't evoke thoughts of garage doors. We're here to hopefully change your mind.
A gift certificate from Overhead Door of Rutland can be used in ways you may not be thinking. A few things they can be used on.
1. Installation of Electric Garage Door Opener – providing convenience, safety, and security with the industry leading openers.
2. Garage Door Tune Ups – Take the sqeaks and grinds out of an older door and extend the life when our technicians perform the service.
3. Complete Maintenace and repair of a damaged or unsafe door. We can replace rollers, pulleys, springs, hinges and much much more.
4. Installation of completely new door – With style and value to meet almost any budget let our team of professionals show you just how affordable a garage door can be.
5. Garage Door Parts – Gift certificates are the ideal gift for customers looking to repalce worn parts on their existing door. Backed by years of experience we can assist with getting you the correct replacement parts and, in some cases, even help with tips and tricks for installation for the DIY crowd.
Contact us or come to the showroom for more details or to purchase.
Free Estimate
Need advice on what door best fits your needs? We have the expertise to help you find the door that will look and work better than any other. Contact us today for a free consultation and estimate!
Request a Quote
Keep Your Door Running Right
We have parts you need and service professionals ready to help you keep your door in tip-top shape.
Request Garage Service