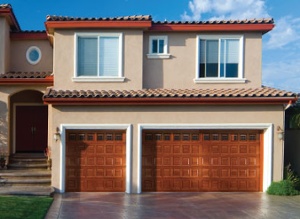 We are approaching the end of summer, just over a month left before the evenings begin to get cooler and the leaves begin to change. With the change of season it's a great time to think about changing out that old garage door.
With many options available we are sure to have the perfect door to suite you and your home. We invite you to visit our Residential Door Section on our website. We also have a neat tool where you can upload a photo of your home and see how your home looks with a new door. This is a great for people like me who like to visually see how different options are going to look.
Things to consider when looking at Garage Doors:
Do you heat your garage? I would suggest looking at something with a higher R-Value. The Thermacore Series Offers the 494,495,496, and 497 with a 17.5 R-Value. This will help lower your heating bill this winter.
Not enough Light in the Garage? All of our residential doors are available with the option for a glass section; this will let the daylight in. With glass there are options for placement on most doors, putting the glass in the top section allows light in but keeps people from looking in, or putting glass lower so that you can see out the windows.
Tired of manually opening the garage door? The Odyssey 1000 Operator will solve that problem. The Odyssey 1000 is a 1 H.P. Comparable DC Motor, with the option of a chain or belt Drive. Remember operators you could hear throughout the house because they were so loud, well that is no longer an issue the odyssey 1000 is very quiet. With the option of a battery backup system you can still operate the opener even if the power goes out!
As always we offer free in home consultations as well as design services. One of our friendly and professional staff will meet you on your schedule to help you make the most informed decision possible.
Your Overhead Door Team – Of Rutland Vermont