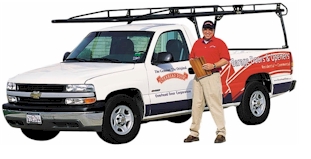 The situation makes no difference to us, and it shouldn't for anyone else either.
When you are considering upgrading your garage door or are in need of some garage door service the vast majority of the time it's not something you've necessarily planned for. Your garage door needs to go up and down. You should be able to count on it doing just that for many, many years.
But when you're in need the last thing you want is poor service or shoddy workmanship. You need not be stuck with what you can find.
If your garage door spring breaks and your car or something else is stuck inside chances are you seek out the quickest solution possible. Sometimes that means calling a garage door service company. Don't let your guard down just because a company can get there quickly. They know you're stuck and in some cases try to capitalize on your situation in the form of up charging, doing the minimum to get you working, or using parts they have available even if they're not exactly built to do the specific job.
If your garage door has finally made it to the finish line and is in need of replacement the same holds true. Your car and belongings need to be secure so settling for something that fixes the issue immediately may not be the best course of action nor should it be the only option.
You can have the best of both worlds. Overhead Door of Rutland proves this every day. We take more phone calls and emails in our service area than anyone else, hands down. One of the main reasons is the simple fact that no matter what your situation is we will work with you, provide the best solution, and do it all on your timeline. We even provide temporary fixes in some cases because we know sometimes you just need a little time to make the best and most informed decision.
This is not something we think about everyday but rather a solid part of who we are. The customer who needs immediate attention gets the exact same service and patience as the customer who's planned for a brand new garage door in the future. When we service your door we're proud of the work we do and the condition your door is in when we leave. It's our name after all.
Your Overhead Door Team – Of Rutland Vermont