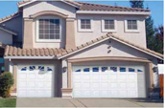 Spring is officially here, although it may not feel like it. The garage door is one of the projects we often overlook when making the spring "to-do List". Like most products the garage door has come a long way in the last ten years, and with that has come many new options. Here are a couple things to think about before you decide on your new door.
Insulation is probably one of the most important factors if the garage is attached to your home, or you are looking to heat the garage. Insulation values vary with the style of the door but can range from an R- value of 4 up to 26. So make sure you take into consideration the living space above your garage, or the water pipes that are running through the garage.
Design is a big factor as the garage door can play a big part in your curb appeal. The options are really endless when it comes to the design and color of your door. So you may want to start with uploading a picture of your home into the door view design center and see what door works for you. (http://ohdrutland.com/access-our-design-center-now/)
Materials have changed a lot over the years, in the past a wood or metal door with a basic design would have made this choice easy. Now your options are endless such as Vinyl, fiberglass, aluminum, steel and wood just to name a few. Now with all these options you also need to take into account the maintenance the door will require. For example a custom stain grade wood door will need to be sanded down and re-stained over the years were as a steel door with a baked on polyester paint is virtually maintenance free. So be sure to inquire what maintenance your door will need. With Different materials come different product warranties, vinyl and steel doors will give you the best warranty.
Cost will depend on the size, style and finish of the door. Steel is the most budget friendly option available. For a more accurate price feel free to give us a call (1-800-281-5711). We can give you pricing over the phone if we have a few measurements which consist of the width and height of the door, and the floor to ceiling measurement. We will also need to know what style door you are looking for. You can also call us and our road salesman John Gilbert can stop by and give you a free estimate.
Installation Day, the door you have chosen whether it is a door we have in stock or something that is a special order is ready to be installed, there are a couple of things to know. The garage space will need to be cleaned out which usually means pulling your vehicle out of the garage. (The door installers need roughly 10-15 ft back and about 2 ft on each side of the door) The Installation of your new door will usually take between 3-4 hours on average.
We have an excellent reputation in the area with almost fifty years in the garage door business. We would love to help you select your new garage door, please feel free to give us a call 1-800-281-5711.
Your Overhead Door Team – Of Rutland Vermont