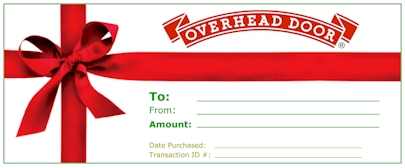 With Cyber-Monday upon us we felt a little left out. We don't operate an online store – not yet, that is, and wanted to let you know we can still join in the party. A quick phone call or short drive to our showroom and you could snag one of the most unique gift giving ideas anywhere. Plus, they fit rather neatly in a stocking.
Yes – we do offer gift certificates and they can be used for any product or service we sell. Think about it, lots of folks have garage doors and some of them just need a little tune up.
Maybe you have a family member who would be better suited to have a state-of-the-art electric garage door opener instead of the squat and lift method they currently employ? Talk about the gift that keeps on giving. Gift certificates can be used on those too and what's better is that our professionals will schedule the install at the most convenient time possible.
They can even be used for a brand new door. With an almost unending range of combinations in styles and colors a Rutland OHD gift certificate could start the recipient on a journey of selection and curb appeal unrivaled in home improvement.
Our gift certificates are offered in any denomination and our staff is ready and willing to help you decide how much you'll need to deliver the value you are trying to achieve.
All our best this holiday season,
Your Overhead Door Team – Of Rutland Vermont