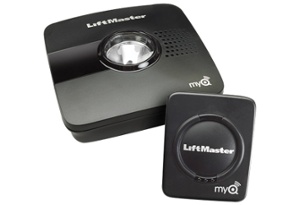 It was only a matter of time before you could control your garage door with your mobile device.
Rutland VT, Aug 12, 2014 – Liftmaster, a leader in garage door openers and technology, has just released a do-it-yourself kit for homeowners looking to gain greater control over their garage door. You can open or close it from anywhere you have an internet connection but also tell if it's open or closed and for how long.
It may not happen that often but there can be times when you're not home and someone other than a family member needs to get in your garage. A neighbor looking to borrow a tool, a delivery you'd rather have left inside, a contractor or other service company that needs access to name a few. Some folks can also tell when a son or daughter has, in fact, arrived home from school. Knowing that your door is closed and secure without having to get up to look is a nice benefit too.
These kits are now available at both our Rutland VT and Albany NY locations. Average cost is right around $129 and a little technical knowledge is needed. The most important prerequisite is a WiFi home network. During installation you will connect a module to your home network which will then make your device communicate with the Free App on the iTunes store or Google Play for Android devices. If security is a concern rest assured that activation of the device is done with a unique alpha numeric code associated with only your device. Once your account is created no one else can activate that device.
With technology evolving at a rapid pace most customers with a garage door opener that was relatively new were left out of this loop. Now they can update just about any garage door opener with these features.
Overhead Door of Rutland VT has been the area leader for professional sales & service over decades. Continuing to evolve and meet customer needs is at the forefront of our business.
Your Overhead Door Team – Of Rutland Vermont